Orekhovska Tetiana Mykolaivna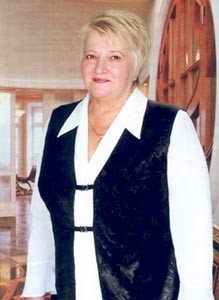 "My career success depends on my education, culture, the ability to track changes and to make the most correct decisions with minimum mistakes" – says Tetiana Orekhovska
Orekhovska Tetiana Mykolaivna – Candidate of Economic Sciences, Docent, was born in Rybnytsia city, Moldavian SSR.
Tetiana Orekhovska graduated from the Donetsk Institute of Soviet Trade. Right after the graduation from the Institute, she started to work as a laboratory assistant, and later as a lecturer in Gorlivka technical school of Soviet Trade. In those years Tetiana Orekhovska felt that being an educator is her vocation.
Later, in 1960s, Tetiana Orekhovska started her carreer in the newly-founded Chernivtsi Faculty of Kyiv Trade and Economics Institute. Then, as usual, post-graduate study and PhD Thesis were in her life. An extraordinary young teacher was drawn attention to. In 1975 she became the Head of the Department, in 1987 – the Dean of the Faculty. Everything was according to the typical life scenario of Soviet time, when, in fact, not so much was depended on the Head: one should strictly follow the instructions. But the time of changes had come, when the person's capacity started to be cruelly tested by the life itself… Since the independence of Ukraine, the higher education has obtained another direction of the development, introducing new European mechanism of training. Exactly such direction was chosen for the development of the educational estab²ishment.
In 1999 Chernivtsi Faculty was reformed into Chernivtsi Institute of Trade and Economics as a separate structural subdivision of KNTEU and Tetiana Orekhovska had been entrusted to manage this educational establishment in a new status and at a new position – Director of the Institute. To turn a small Faculty of Kyiv educational establishment to an Institute of a full value, that is one of the three really reputable educational institutions in Chernivtsi; - one should have a temper of a real leader, firm hand, strong will, and far-sighted and outstanding intelligence.
Due to the common efforts of Tetiana Orekhovska and all employees the Institute is rapidly developing. During last decade the full-time form of study was opened, the quantity of specialities increased in three times, the amount of students increased in five times, and the amount of employees increased in 5.5 times. New Faculties, Departments and subdivisions were organized.
Due to the successful management of T.M. Orekhovska the Institute is rapidly developing educational establishment with constantly improving working and studying conditions for teaching staff and students. During the mentioned period modern material and technical base was grounded; a team of highly qualified teaching and scientific staff was created; conditions for scientific and research work for students and lecturers were made; modern methods of training and education of young people were introduced. There is continuous search of scientific cooperation with other educational and scientific institutions and business units in Ukraine and abroad; scientific conferences, seminars, round tables, students Olympiads, students advertising festivals are conducted on a regular basis. As well, conditions for comprehensive development of a personality (sport clubs, amateur art activities circle, KVN clubs, and Brain Ring teams) were created. Council of students' self-government, students' trade union committee, association of young scientists and students, non-government organization "Economic club", alumni association were initiated and organized by the Director. The issue of professional journal "Scientific Journal" and Institute newpaper "Steps to PROFI" was started. Official web-site of the Institute was created and is constantly updated and improved.
Tetiana Orekhovska has a lot of scientific achievements. During the years of scientific and pedagogical activity she has published more than 80 scientific publications, among which there is one text-book under the stamp of the Ministry of Science and Education of Ukraine and there are 2 monographs.
Her success is also proved by numerous departmental and state awards and honours. For the years of hard and conscientious work Tetiana Orekhovska was awarded:
Medal "Veteran of labour" (1986),
Rank "Honorable Worker of the Education of Ukraine" (1998),
Premium by O. Popovych (2000),
Honorary Award of the Chernivtsi Regional State Administration and Regional Council "Bukovina" (2004)
For the signiifcant contribution to the development of national education she was awarded the honorary title "Honored Worker of the Education of Ukraine" (2002).
For a significant charitable work, personal involvement in the fate of orphans she was awarded with the highest honor of the Children's Fund of Ukraine – Crystal Sign "I give my heart to children" (2002ð.).
Tetiana Orekhovska is also awarded with numerous diplomas and gratitudes from the local state authorities for the personal contribution to the development of education, tourism and sport in Bukovina.
No wonder, that the name "Tetiana" is translated as and means "founder", "intercessor". Tetiana Orekhovska is considered to be students' defender, patroness and protector.
Contact Information:
tel.(0372) 51-11-58, fax (0372) 52-21-12, E-mail:main@chtei-knteu.cv.ua