The faculty of management, service industry and catering technologies
---
General information
---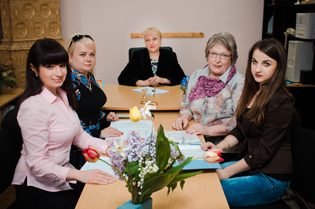 The Faculty of Management, Service Industry and Catering Technologies of Chernivtsi Institute of Trade and Economics of KNUTE was established through the reorganization of the structural units in February 1, 2017
The Dean of the faculty together with the departments directed their efforts to improve the quality of educational services, adapt to work in the European educational space, improve scientific and methodological work, strengthen human resources, facilitate the formation of student self-government, social support for workers and students.
At the faculty has scientific clubs at each department, schools that promote the development of science, creativity and professionalism among students.
The faculty consists of four departments:
The main task of the Faculty of Management, Service Industry and Food Technology is to prepare highly skilled, demanded specialists capable of perform the functions of the best managers, marketers, commodity researchers, logistics merchants, professionals in the field of tourism, food technology and hotel and restaurant business.
The faculty is headed by the Dean Valentyna Polianko - Candidate of Economic Sciences, Associate Professor, Associate Professor of the Department of Management and Tourism.
Deputy Dean Oleksandr Kretskyi, Senior Lecturer of the Department of Social and Humanitarian Sciences and Law.
---
News
---