Dormitory
Students of Chernivtsi Institute of Trade and Economics are provided with accommodation facilities at the dormitory.
The dormitory has 9 floors: 7-8 blocks at each floor.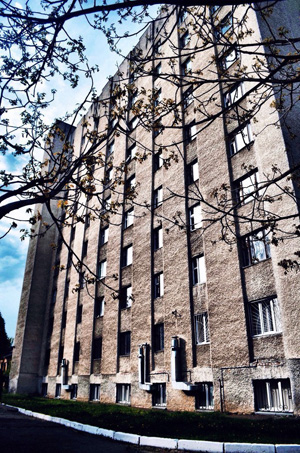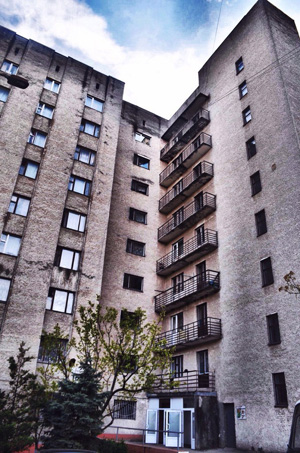 Every year about 300 students are accommodated at the dormitory in furnished two-; three-; or four- bed rooms with block system of planning (toilet and shower in each block). Comfortable accommodation facilities are provided in the dormitory: kitchens, sanitary facilities, conference hall and a room for table tennis. At the 9th floor there is a library with all necessary facilities for study. In the reading hall users have free access to all sources of information. They have at their disposal the Internet, electronic catalogs of the library that contains over 121 000 bibliographic records of book stock and about 57 300 journal articles on their specialization, full-text databases, electronic textbooks, manuals, etc. There is a stadium near the dormitory equipped with all necessary equipment.
Accommodation of students to the dormitory is on a competitive basis according to the Order of accommodation and living at the dormitory approved by the Director of the Institute and is agreed with the student self-government council and students union.
The priority of accommodation in the dormitory is provided to orphans and half-orphans; disabled; persons affected by the Chornobyl disaster; members of large and poor families; first year students and students who successfully fulfill the curriculum and follow the rules of internal regulations of the dormitory.
There is a student self-government council at the dormitory which is a link between the administration of the Institute and students. Student self-government council of the dormitory has its structure and includes representatives of each faculty among students- residents of the dormitory and they are elected at the reporting conferences of the student self-government council of the dormitory.
Student self-government of the dormitory organizes feasts, interesting meetings, trainings and lectures.